My vacation has finally arrived. I made a list of places I wanted to eat at while staying at the MGM Hotel in Las Vegas. With places like Nobhill, Shibuya, Craft Steak and Sea Blue, just a few steps away from the craps table, I was a happy camper. Unfortunately, I didn't get to dine at any of them. Spending days by the pool and nights drinking over-priced vodka with the girls from Deal or No Deal and Mike Tyson, didn't give me as much time to have nice dinners. Except for two nights, which you will read about in my next two postings.
My friend invited me to go to dinner at Nove Italiano, with a girl he met and her friend. It is a contemporary Italian joint at the top of the new Playboy Fantasy tower at the Palms Resort and Casino. Contemporary Italian? Was this going to be a Fiamma Osteria nightmare all over again? Before giving my friend an answer, I checked out the menu on my Blackberry and I wasn't really impressed. However, the magic words were said, "they are paying". I'm far from cheap but there was no way in hell, I was spending $500 on dinner on two girls I hardly knew.
I go over to the Palms and met up with my friend. Walked over to the extremely good-looking hostess and was quickly shoveled into the elevator. While going up in the elevator all I could think about was how good looking the hostess was. Being I was in the Playboy fantasy tower, I had a mini daydream of Playboy bunnies serving me endless filet mignon with wasabi lobster mashed potatoes and opus one. "Ladies and gentlemen, welcome to Nove, watch your step" and poof girls, meat and wine were gone.
Nove was decorated in a modern Italian style. Shrubs cut out to resemble figures of people, Swarovski chandeliers, and plasma screens in wooden frames that flashed dynamic art. There were no Playboy bunnies but it didn't matter. I was with good company and the best part is we got a booth. A booth is like a vacation for your ass. Our waiter comes over and hands us our menu and takes our drink orders. Now this waiter was interesting, not only did he start off by hitting on one of the girls at our table, he also looked like one of the flying Ando's brothers from that episode of Seinfeld, when they thought Jerry's jacket was stolen from the fryers club.
Scanning through the menu, I wasn't impressed. Another Fiamma Osteria on my hands, minus the bad date. I started off with grilled prawns served over grilled green chili and the ahi tuna for my entrée. The tuna was a pink and black peppercorn crusted heirloom with tomato vinaigrette. Our waiter informed one of the ladies sitting with us that there was a special dish that wasn't on the menu, a Tuscan lobster. It was only made special for "special" people. So for the rest of the night, I kept telling this girl how she should take our waiter in the bathroom so we can get a free dinner. Or at least they can get a free dinner.
I got a glass of wine, which was good but when I asked for the name of the wine the waiter refused to tell me what it was. This waiter was a character so I didn't mind his stupidity. One thing I didn't like was that the wine was served in a stem-less wine glass. How am I going to open up my wine without using the stem to swirl it around? Are they kidding me? I wasn't grabbing the glass and swirling it around like a glass of chocolate milk. If any wine aficionado saw me do that I would be banished from the wine community. I asked for a glass with a stem and was told they don't have any. Décor just got a minus one.
My appetizer had arrived. Grilled shelled prawns. I hate to wrestle with seafood like lobster, crabs, etc. The prawns were very dry and had a weird taste to them. I tried the other appetizers around the table that my friends had ordered, calamari with banana peppers and lemon. It sucked, the calamari tasted like they were fresh from the bag. I also tried the Sicilian crab cakes with tomato, baccala, and garlic aioli. Yet, another bad dish for Nove. So far the nine group, has struck out with my palette.
Our entrée's arrived and I was happy I went with a basic dish. My ahi tuna was good. I didn't have much more to say about it. Our new friends ordered the ahi tuna and the Tuscan lobster. I was offered to try the lobster. Actually it was more like shoved onto my plate and I was forced to eat it. Yes she was a little pushy, but in a funny kind of way. Any girl who forces me to eat a lobster tail is okay in my book. The lobster was a hit. It was a succulent lobster tail, in a spicy tomato sauce. It was really hard to deconstruct the dish because I was trying to pay attention to people talk. Apparently this lobster dish was only given to VIP's. My friend went with the grilled lamb chops and said he didn't like them at all. He's a fussy eater so I couldn't really speak more on the dish.
I won't waste your time with the dessert. There is nothing interesting to discuss. Nove Italiano is a thumbs down my friends. In my opinion, I think Italian food should remain rustic. Or maybe it is because I live in Brooklyn, the Mecca of rustic Italian food. When I think Italian, I think of dishes like penne alla vodka and fra diavolo. Yes, I am a metropolitan type of person when it comes to food but so far every modern Italian place I've dined at was a bad experience. The bill came out to $590 for four of us that included the tip and tax. Nove Italiano is a strike out. It is probably worse then Fiamma Osteria.
Here's a picture of Iron Mike. His table was next to our's at Pure. Unfortunately the night we had a table next to the models from deal or no deal we had no camera and my blackberry was dead.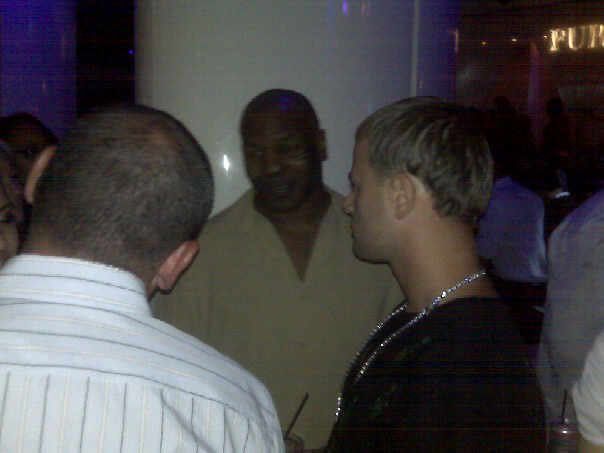 Edited by m.o